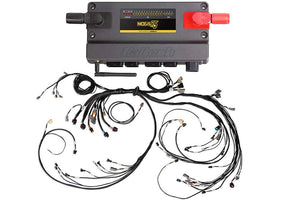 Haltech - Nexus R5 VCU + LSx DBW Terminated Harness
Regular price $5,698.00 Sale
Includes: 1 x HT-195000 - Nexus R5 ECU 1 x HT-186205 - Terminated Harness
Terminated harness suits LSx engines with DBW, and incorporates PDM functionality.
EV6 primary injector plugs.
Plug and play with the OEM Ignition sub-harness on the engine. (Required)
Includes
1 x HT-186205 Terminated Harness
1 x Pack of DTM/DT connector and pin set to terminate to sensors, solenoids and other devices
2 x DTP-2 connectors with pre-crimped 12AWG wires to use for fuel pump and thermofan
1 x DT-8 connector with pre-crimped 18AWG wires
1 x 2 pin Bosch alternator adaptor harness
1 x 2 pin Yazaki alternator adaptor harness
1 x 4 pin Delco alternator adapter harness
VCU OVERVIEW
Nexus R5 is Haltech's flagship product combining the functionality of a power distribution module, a data logger, a dual channel wideband controller and a state-of-the art engine management system in one powerful device we call a VCU (Vehicle Control Unit).
4 x 25A (continuous) push-pull PWM capable (5 kHz) outputs (for power to injectors / coils, transbrake, thermofan, fuel pump)
12 x 8A (continuous) high side outputs (low speed PWM, 200 Hz) outputs (power to sensors, NOS solenoids, etc)
18 x peak/hold injector drivers (can be used as low side drive outputs)
12 x low current ignition outputs (can be used as low side drive outputs)
8 x low side drive outputs, PWM capable (DPOs)
4 x push-pull / h-bridge outputs (8A, PWM capable), eg for electronic throttle
23 x 0-5V analog inputs with redunancy for electronic throttle and switchable 5V pullup
Trigger and home inputs with differential inputs, adjustable thresholds and glitch filters
10 x synchronous pulsed inputs, zero crossing or adjustable thresholds - cam sensor inputs, frequency inputs or 0-5V analog inputs
2 x onboard wideband controllers, supporting NTK and LSU4.9
3 x CAN ports with switchable termination
8 x Primary injectors (EV1)
Breakout plug for 8 x Secondary injectors
2 x outputs available for Tertiary injection
Single / Dual boost solenoid control
Dual wideband sensor control (R5 onboard wideband controller)
Flex fuel sensor connection
Direct fuel pump control (using 25A-HCO)
Direct thermofan control (using 25A-HCO)
In-cabin breakout connector for spare inputs and outputs
Engine bay breakout connector for spare inputs and outputs (eg transmission control)
Breakout connector for PDM outputs (eg Headlights, indicators, wipers, etc)
Haltech CAN Bus support (DTM-4)
VCU FEATURES
Controlled via NSP (Nexus Software Programmer)
Long Term Learning
Stepper Motor Control
4D Closed Loop Boost Control
Closed Loop CO2 Control
Rotational Idle
Launch Control
Traction Control
Anti-Lag
Dual Knock Control
Trans Brake Control
Race Timer
Multi Stage Fuel Injection
Multi-level Engine Protection
6 Stage Nitrous Control
4-sensor variable cam control
Intake Air Bleed Control
Flat Shift Control
Shock Travel & Ride Height Control
Advanced Torque Management
On-board Wi-Fi
AUTOMATIC TRANSMISSION CONTROL
Ford AODE/4R70W
GM 4L60E
GM 4L80E
Toyota A340E
Lenco
Liberty